Traditional Goal Setting DOES NOT Work!
Just look at the stats...
Every year around 40% of us set a New Year's resolution at the begining of a New Year.
Set a New Year's resolution
45%
25% of us who set a New Year's resolution gave up after just one week and around 60% gave up after 6 weeks.
Abandon New Year's resolution
25%
The most popular New Year's resolution every year is to lose weight and has a whopping failure rate of around 95%!
You can switch the odds back in your favour!
It's not your fault that traditional goal setting doesn't work. The natural way of setting a goal and then trying to achieve it is flawed.
What you need is a completely new way to look at how you set goals and then how you plan to achieve them - it's time for a goal setting revolution.
Before making the transition to being an online entrapenuer due to ill health, I was a fitness instructor and owned many gyms and it was in this line of work where I quickly realised a new approach was needed to setting and then achieving goals.
You see, just like with New Year's resolutions, every January a flock of determined new members would walk through my gym doors all wanting to lose weight and get healthy. Sadly most would have given up after a month or two and reverted back to their normal unhealthy lifestyle.
This is when I realised a majority of people were not able to set goals effectively and in turn achieve them and it's the reason why I'm here today. To show you a goal setting process which works!
For my gym members I needed to create a goal setting strategy which was easy for them to create, easy to use and easy to maintain. This is why I created the Single Page Plan for life.
Let me get something straight right now. Goal setting isn't easy and I don't have a magic wand which I can wave and then low and behold you have achieved your goals and life dreams in the blink of an eye. It takes a lot of time and comitment but with the help of the Single Page Plan you will have an incredibly powerful goal setting strategy which will guide you to achieving your goals once and for all.
This is a proven goal achievement process, and it works!
Goal Setting Made Easy With The Single Page Plan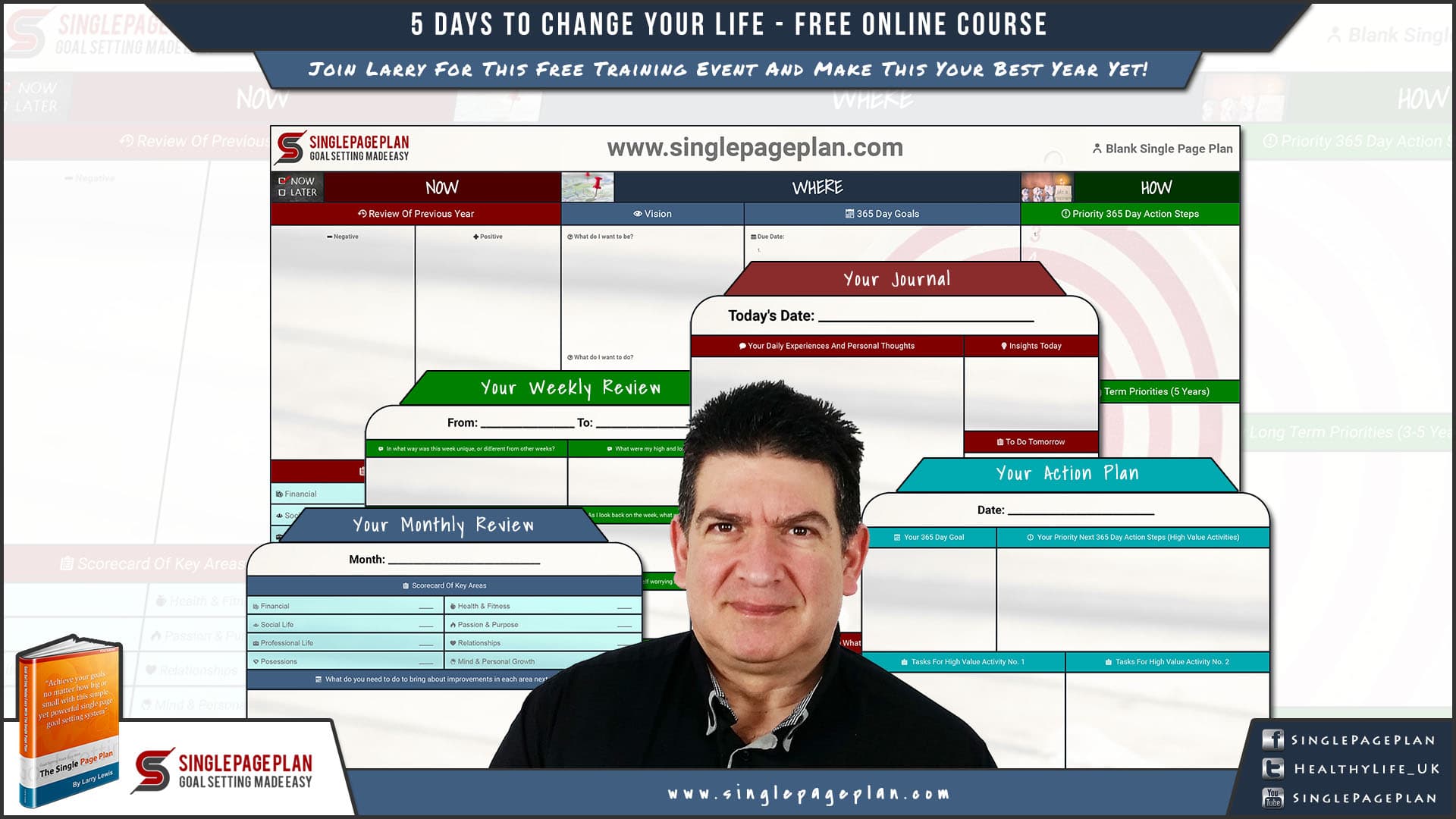 Join me in 2017 and let's work together to make sure this year is your best year yet.
All it takes is an hour or two of your time per day over the course of 5 days. I can personally assure you, it will be well worth the time and effort to invest five days of your life planning for your future and setting yourself up for success in 2017.
I will personally teach you through online webinar sessions and equip you with the tools you will need to set effective, achievable goals. I'll take you through my proven goal setting process to help you create a plan to give you the motivation, and the step-by-step journey to achievement. You will also get more which I will tell you about later.
Best of all, it's a really fun and rewarding process enabling you to create a path for success which you can follow.