Single Page Plan - Core Training - The Goal Setting Process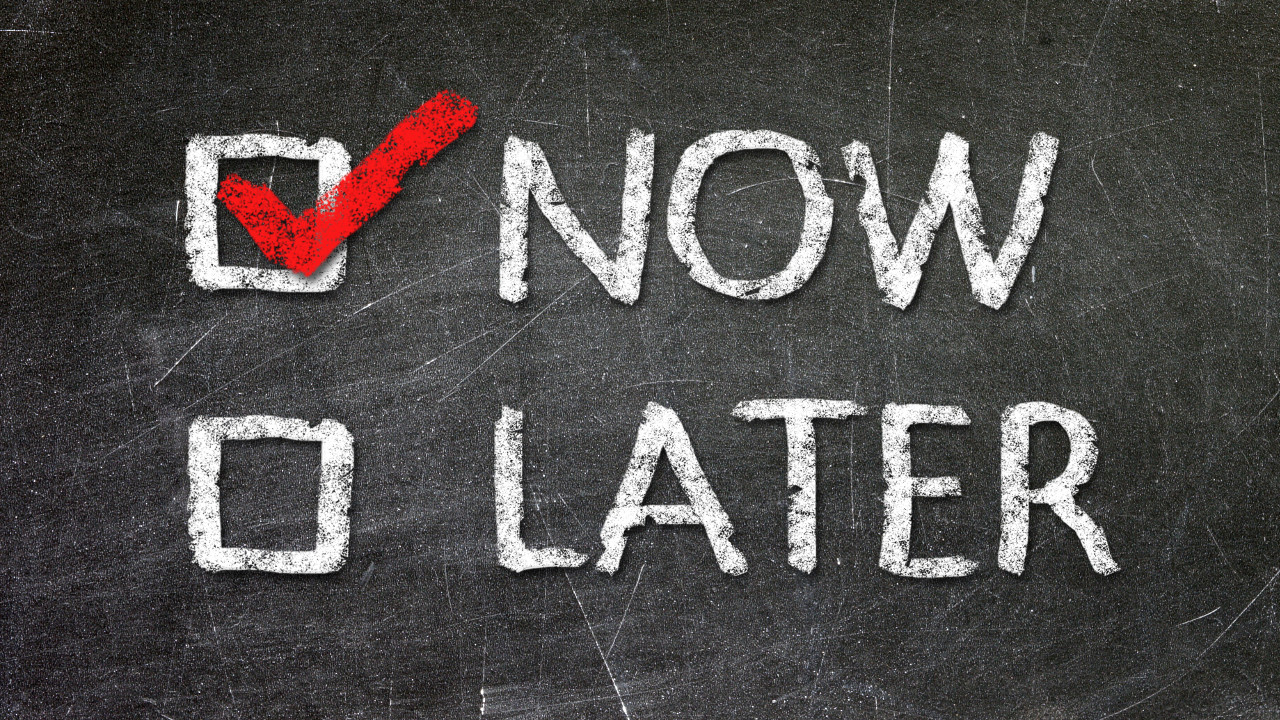 Now
You are about to go through a process that will power up your goals, provide you the motivation to see them through to the end, giving you the priority actions you need to take to achieve them, and producing a single piece of paper which will ensure you keep your focus where it needs to be.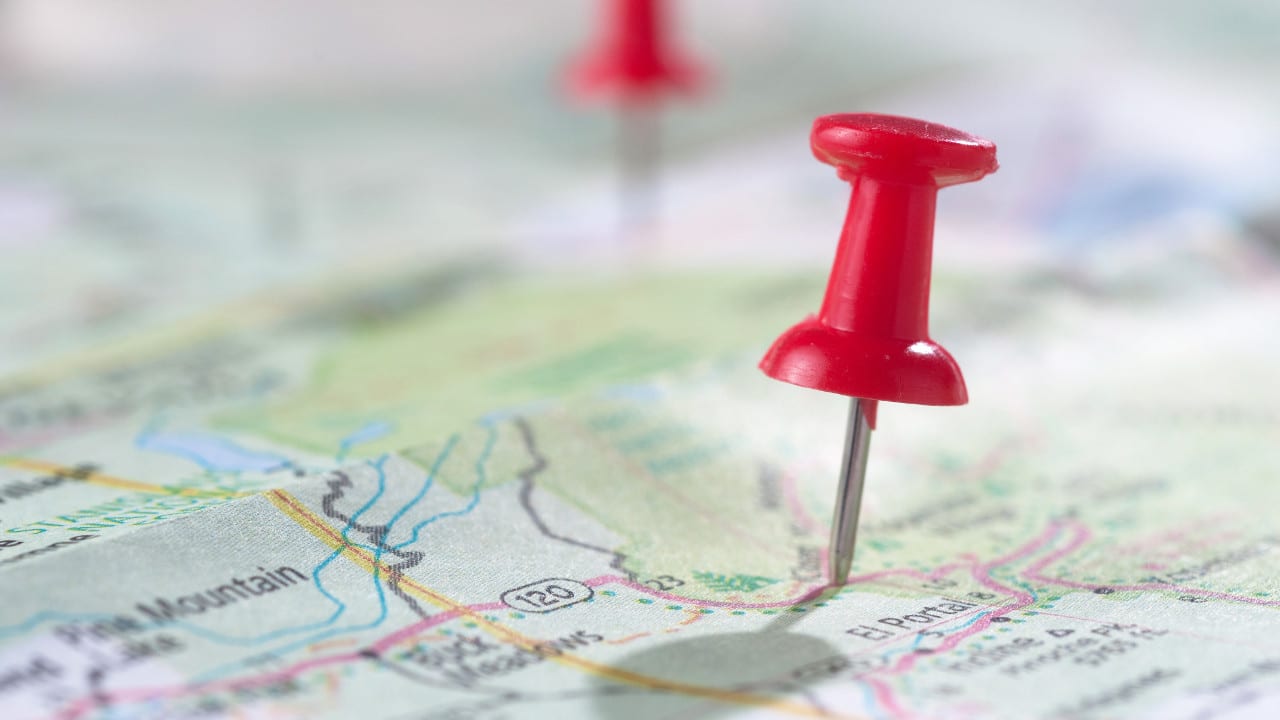 Where
What do you want from life? Many people struggle with this question. Maybe you do too? We all aspire to do, be, and have great things. Yet most of us simply aren't creating the results we want and don't believe we can.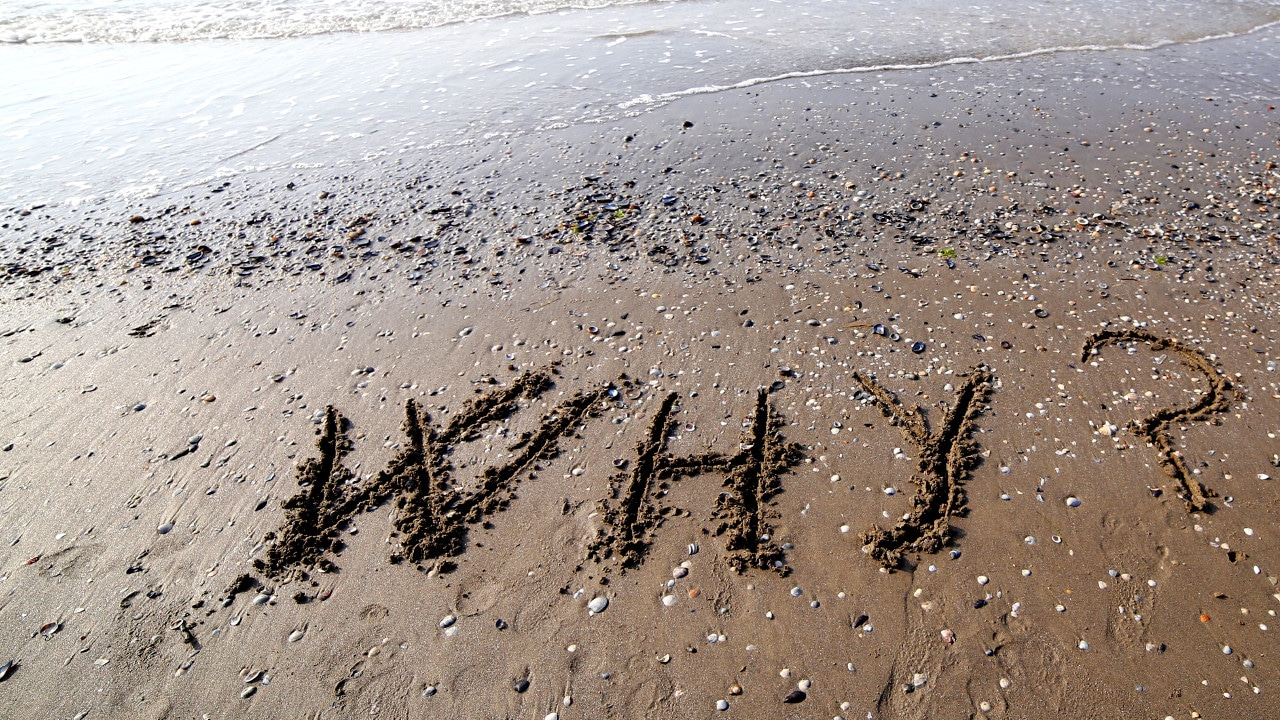 Why
You have to have a compelling reason for everything you desire. Something that motivates you to take action, to keep going when things are tough, to find answers when you meet obstacles, to keep trying until you succeed.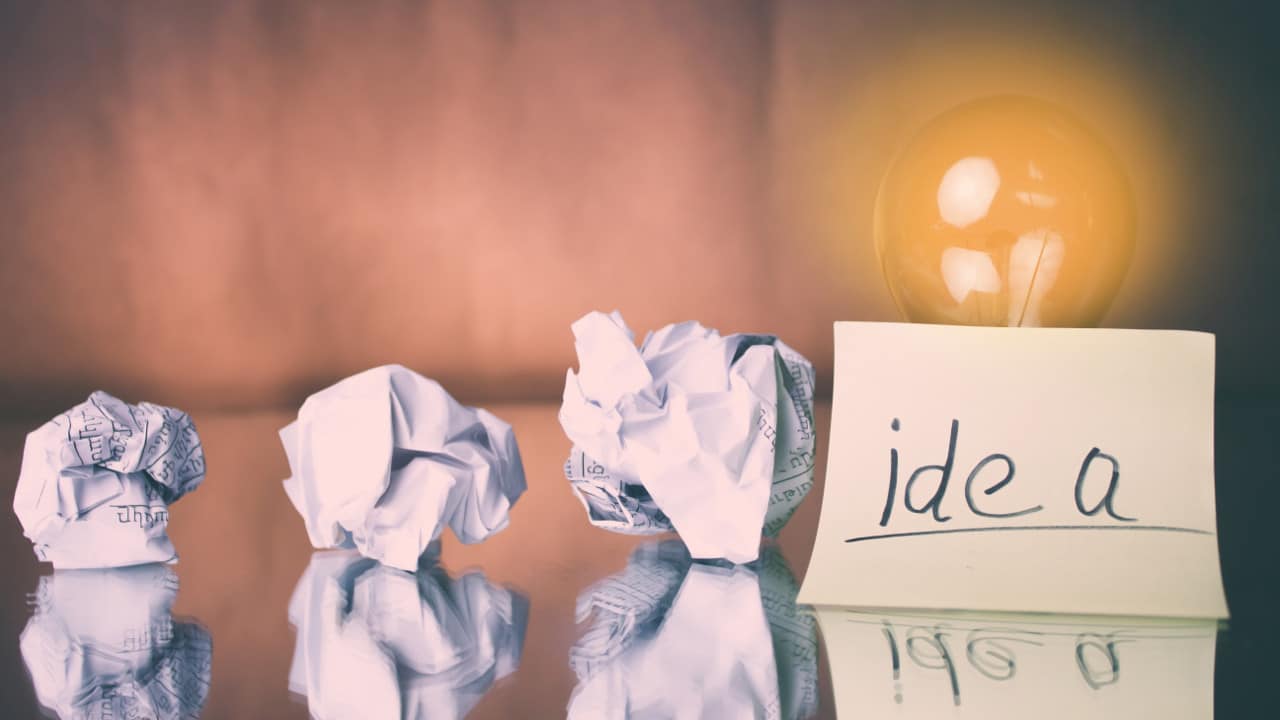 How
Goals will not magically happen just because you have written them down. You still need to make them happen, by taking action. Let's start making the first steps to your action plan.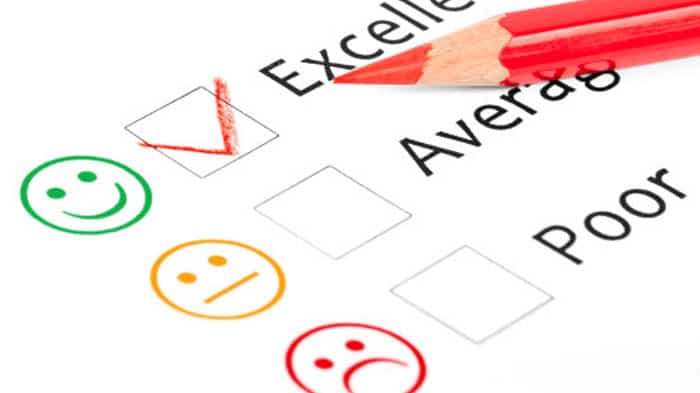 Review
In the last core training module I am going to show you how to implement the Single Page Plan into your daily lifestyle over the course of the next 365 days!
Single Page Plan - Execute and Take Action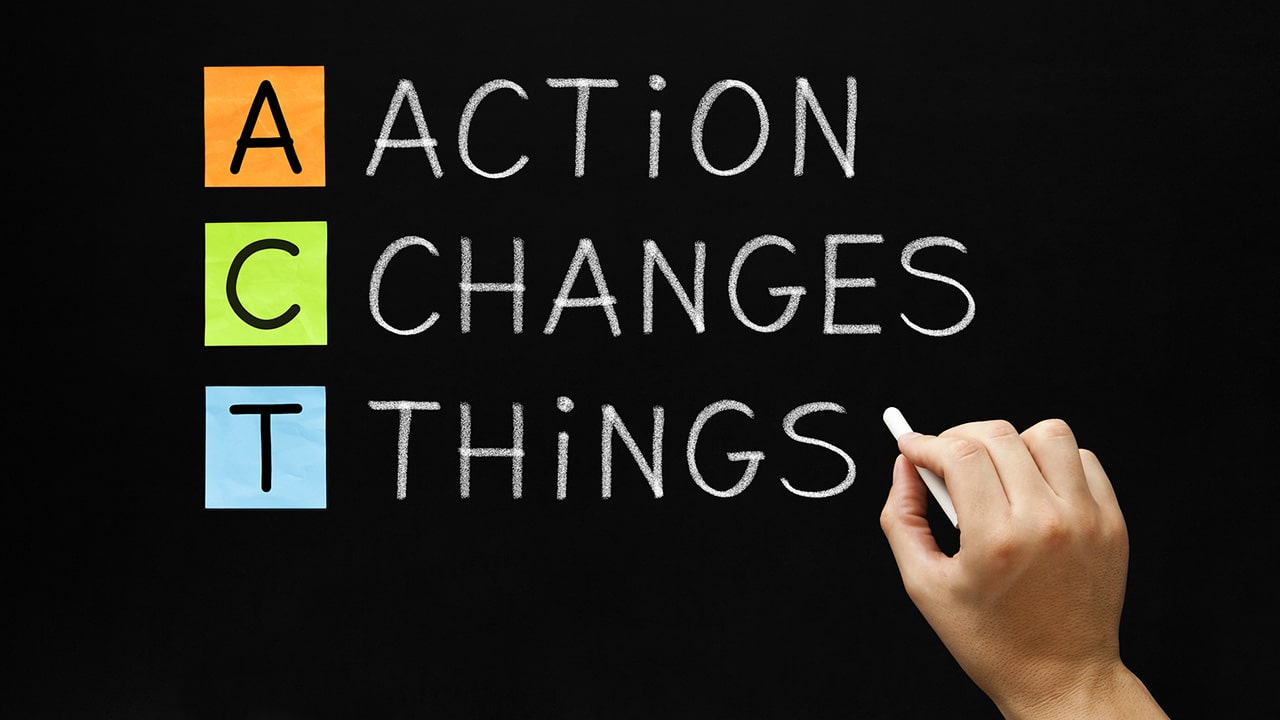 Creating your Single Page Plan is only the first step. You now must implement and execute your plan. Achieving your goals or succeeding in any field of endeavour requires taking action. In fact, it requires massive action; the kind of action that most people are not willing to take to get the job done, but you're here and about to get started bringing your goals into reality.
Single Page Plan - The Online Forms & Support Tools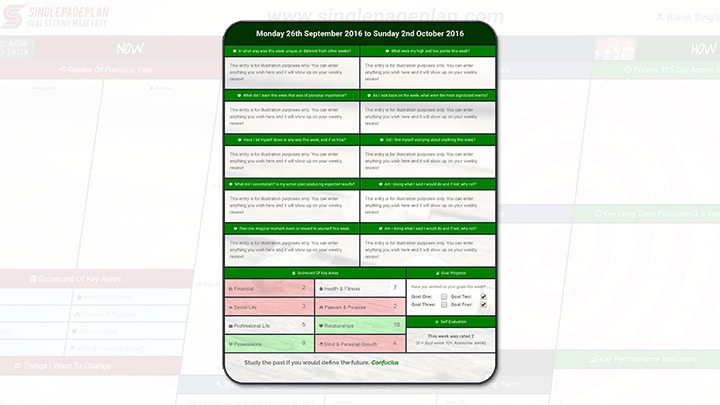 Weekly Review
We all need a personal navigational system to keep us on course to our goals. A Weekly Review is key to staying in control of your workload and to ensure you keep moving forward in the direction of your most important priorities. It's essential you review your week so you know what's working for you and what's not.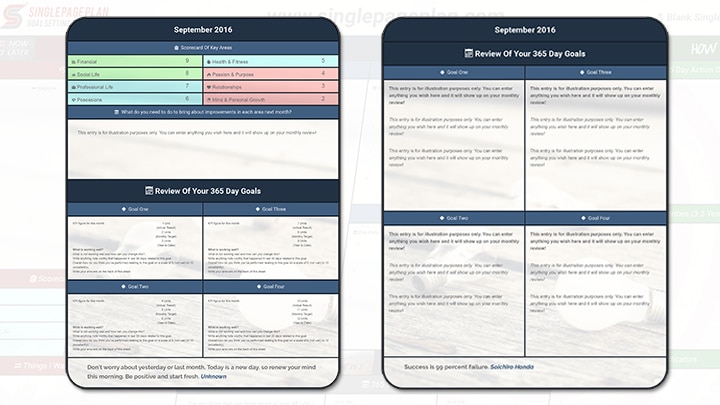 Monthly Review
A monthly Review process is the best way to satisfy yourself of your achievements, progress and remaining activities. It also allows you to factor in new developments and respond to changing circumstances in your environment as well as to judge your success.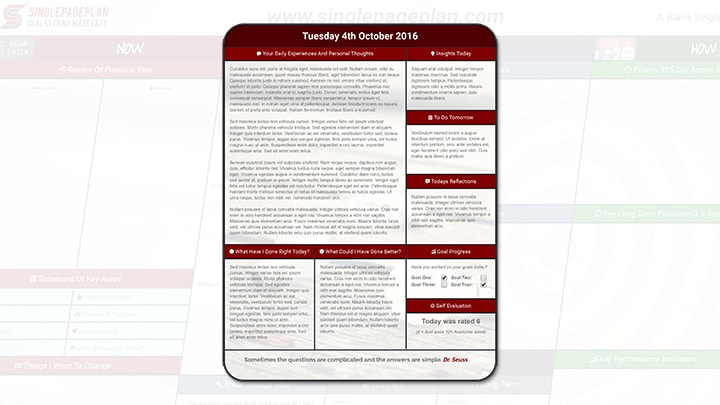 Journal
A journal is a gathering place for all of your observations and discoveries about life. It is the perfect place to analyse where you are, to look at your daily progress and to capture everything important. The very act of journaling helps you think more objectively about your actions and the results they achieve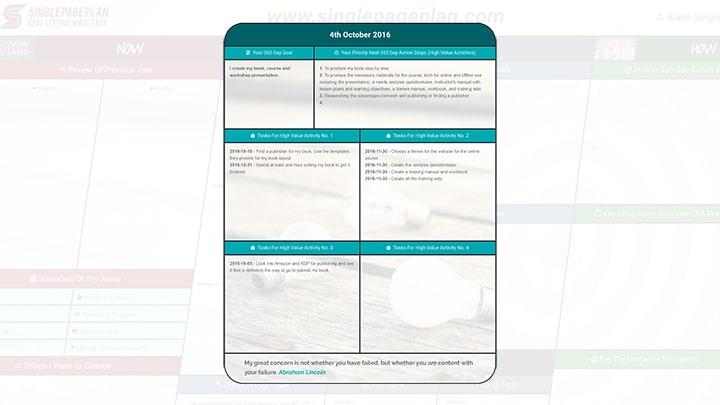 Action Plan
Action planning is a process which will help you identify and decide on the steps you need to take to achieve your goals. Determine the steps you need to take to reach your desired destination then list these steps down gives you a strategy to follow. It's essential if you want to move from 'vision to reality.'
BONUS COURSE - The Art Of Relaxation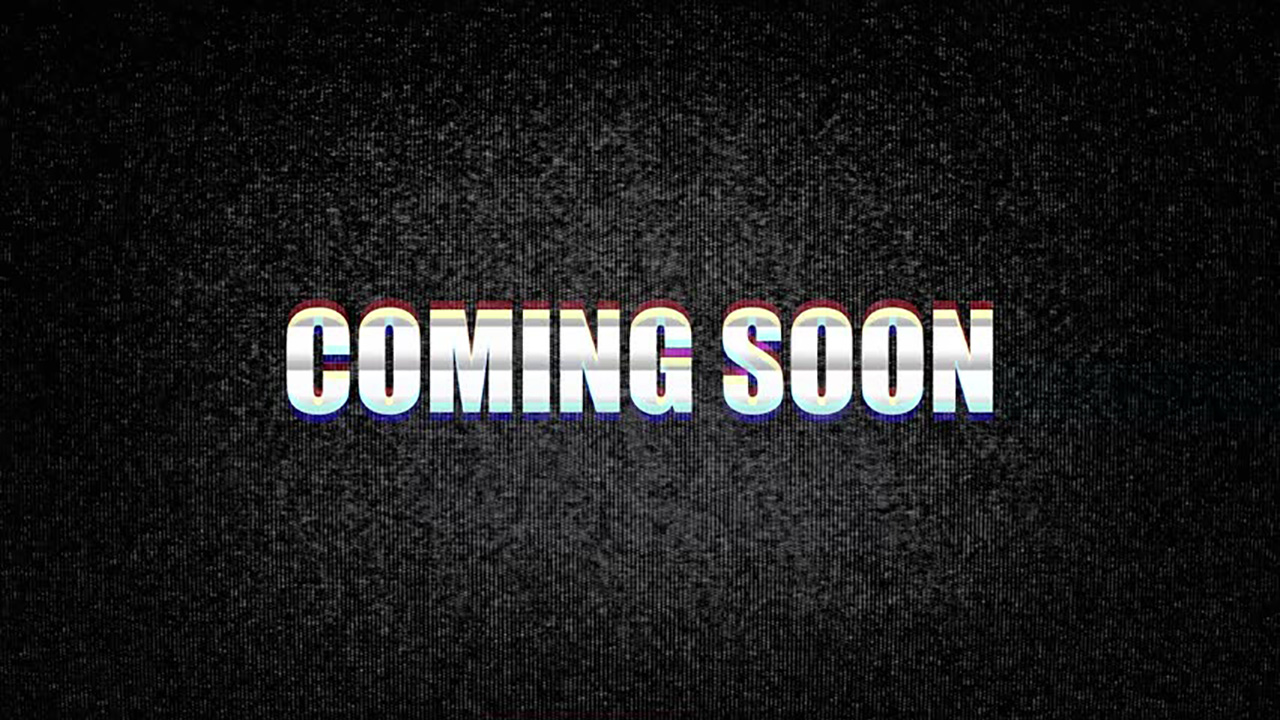 Including written instructions in the art of relaxation, and audio scripts to help you to release tension from body and mind, getting you into a supportive mental state, feeling physically vibrant and totally alive. Using them on a regular basis can be life changing.
BONUS COURSE - Begin & End The Day With Gratitude And Affirmation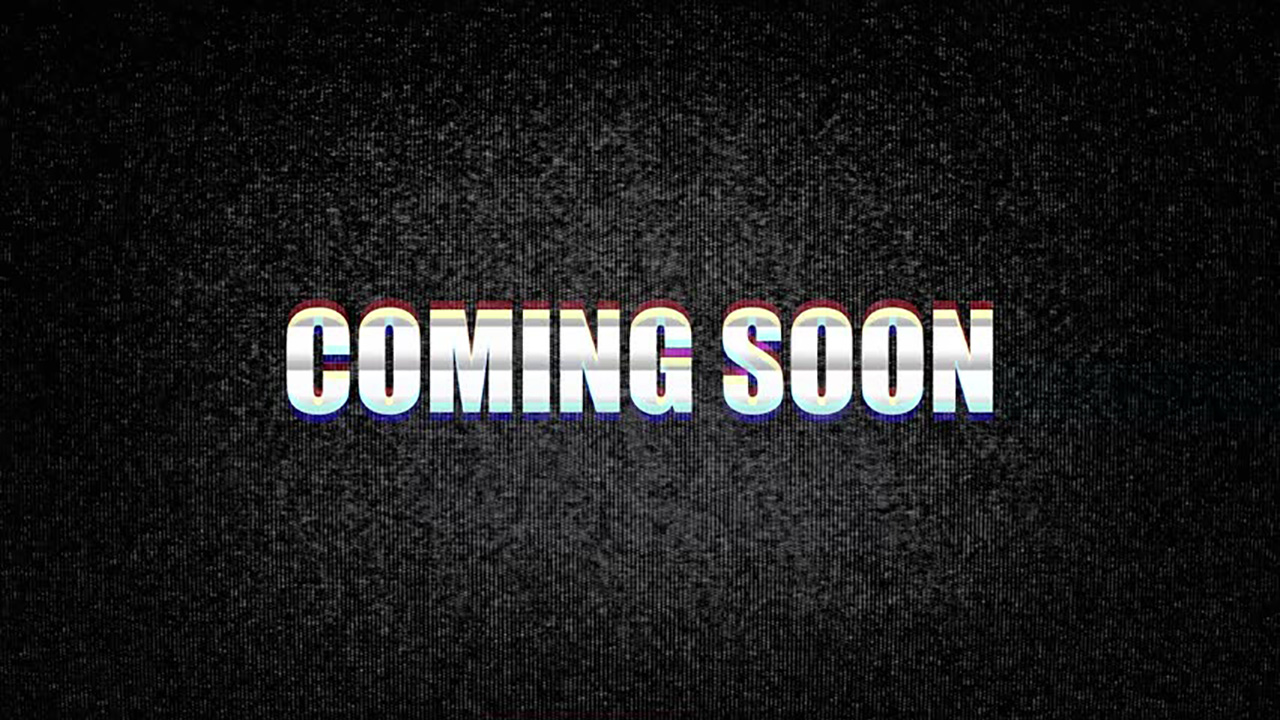 Each of us can cultivate more positivity and belief in our future by practicing gratitude and using affirmations to change your perspective to one that's better able to see the light that's already there. They're seeds.
BONUS COURSE - Healthy Lifestyle Plan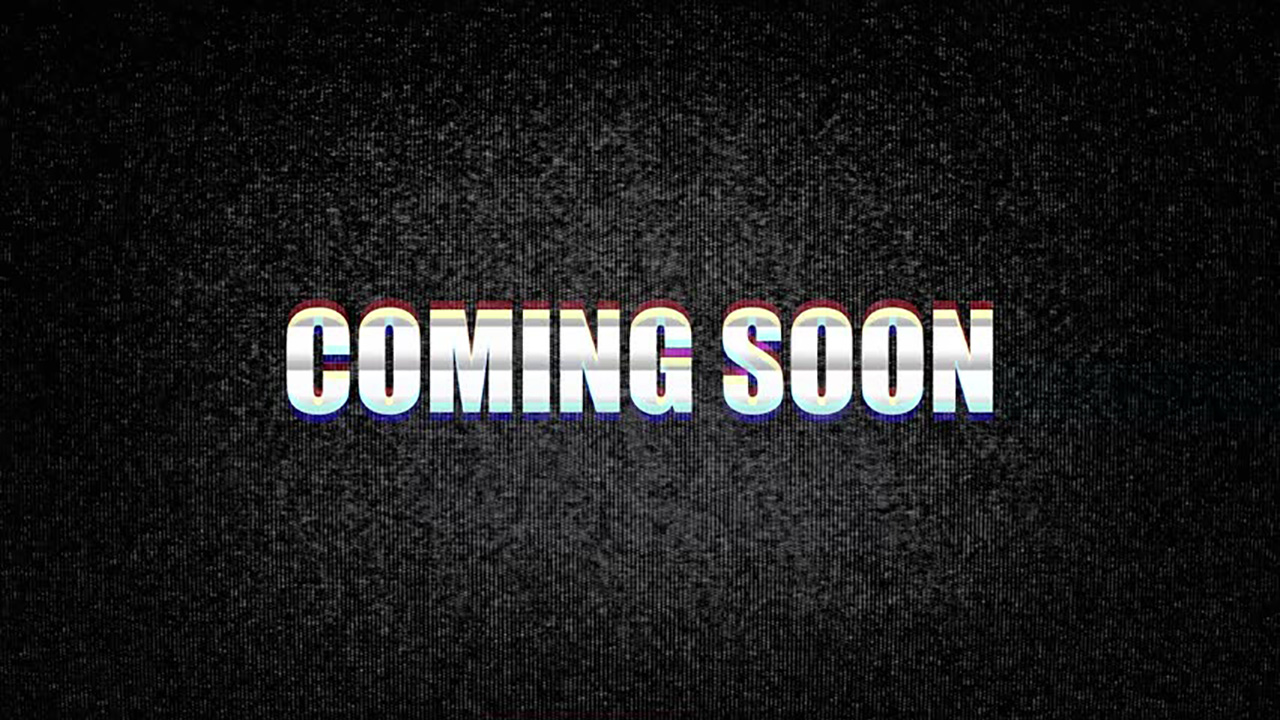 A permanent healthy weight loss/management program. The Healthy Lifestyle Plan is for anyone who is looking to get healthy and stay healthy for life. With it's unique 70 point scoring system you are able to predict if you are going to lose or gain weight in any given week. Say goodbye to yo-yo dieting and hello to a permanent way of living a healthy life implementing healthy habits.
BONUS COURSE - Power Up Your Morning & Kick Start Your Day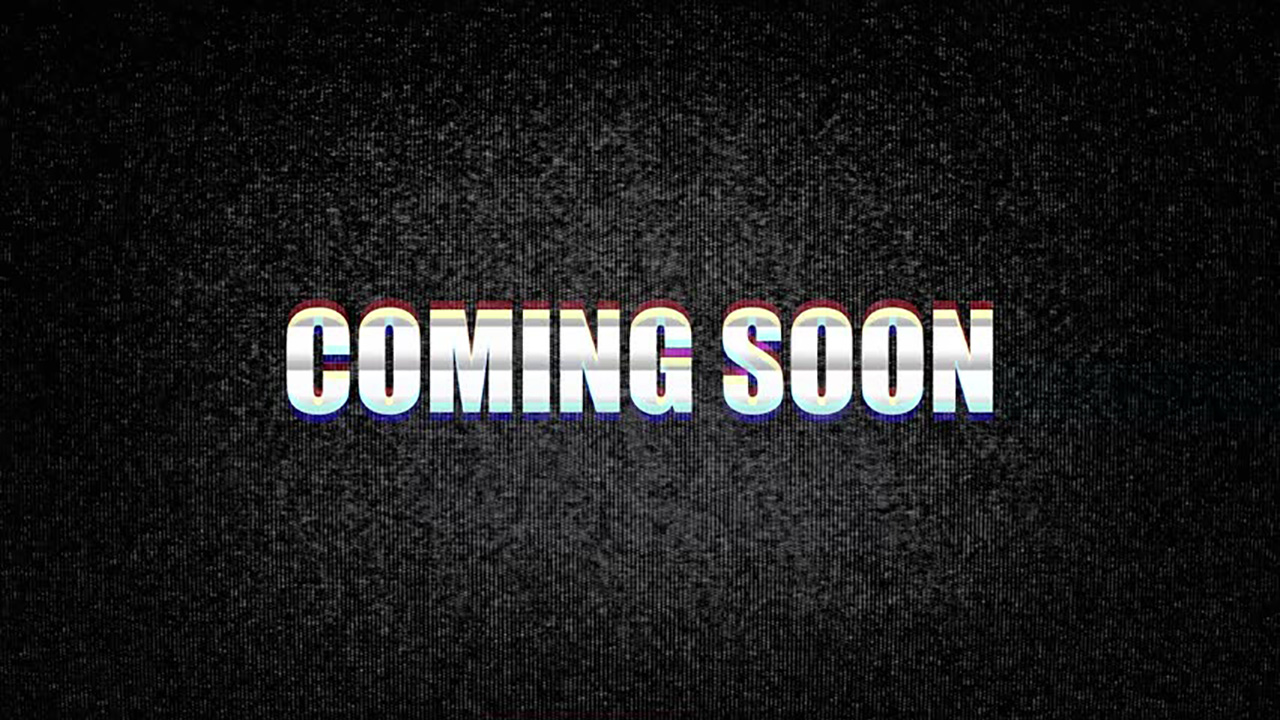 The Morning Power up is largely about waking up feeling energized and excited, and making your day great, every-single-day of your life—for the rest of your life! You are going to be introduced to my Morning Power Up Routine, which will enable you to take a gigantic step forward in your life. It is going to lead to you jumping out of bed every morning with the energy to take on whatever life throws at you and to perform at your very best.